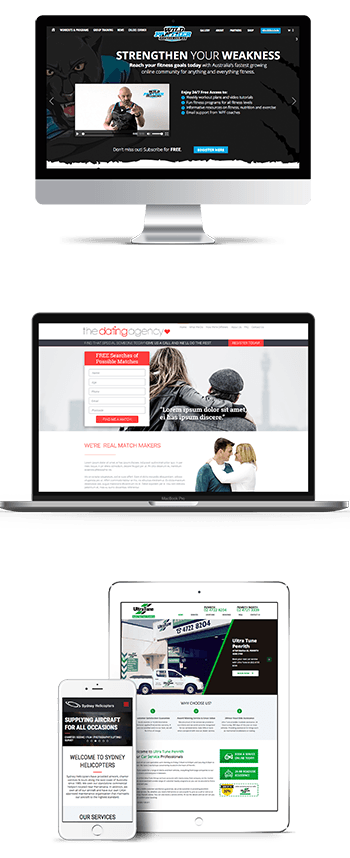 We design websites that leave a lasting impression.
We will design a site that will make your business stand out. We create websites that are engaging, easy-to-navigate and appealing to customers. Let us create a website that will have an impact on potential customers and leave an impression that lasts.


We develop websites to meet your needs.
We will design a website to meet the unique needs of your brand. We don't use templates and we don't have a one-size fits all model for our web designs. Let us create a website to best represent your brand and meets the functional requirements of your business.


We create websites that sell across all devices!
We will design a fully-functional website that will effectively sell your products and services across all devices! Let us design and develop a complete website solution that will refer new customers and increase your sales.


We build fully-functional websites!
We develop websites with the functions that your business needs to get ahead. Whether you need a simple booking page, a fully-managed online store or website integration into an existing system, we have the expertise to build a fully-functional website to meet your business needs.

We focus on the customer journey.
We think carefully about the entire customer journey from the moment your customer enters your website to the point they place an order or make an enquiry. We design the customer experience to be a positive one and to encourage potential customers to buy from you.
Why Choose Us?
We come to you.
This is an obligation-free visit to help us understand your business and to talk about your online objectives. Let us know what time suits you.
We focus on customer experience.
To succeed, your website must offer the best customer experience. We know what it takes to keep customers coming back to your website.
We have an awesome team!
We are passionate about all things web – we love what we do! Our team is experienced, creative and professional. We think outside of the square.
We make it easy for you.
We take a sensible and practical approach to managing your online presence. We don't muck around and we keep things simple.
We take care of everything!
This means you deal with one company for your website, search engine optimisation, social media marketing, domain names and website hosting.
We are an Australian company.
Don't risk your business with an unknown overseas company. We understand your market and we are subject to Australian legislation.